Over the past few weeks, we have received a number of questions regarding COVID travel insurance for ASEAN countries, including Brunei, Cambodia, Indonesia, Laos, Malaysia, Myanmar, Philippines, Thailand and Vietnam.
Please see one such enquiry below
Hi Alan. Bali, Vietnam, Thailand etc now require travel insurance with COVID cover. Do you have any recommendations regarding companies offering this product?
If you plan on traveling to Thailand over this period you will know that insurance against COVID-19 is a mandatory requirement and it seems that many other countries in South-East Asia are beginning to follow suit. In order to address this requirement, LUMA International has come to the rescue with a new regional travel insurance solution named the LUMA ASEAN PASS underwritten by Bao Long (A Vietnamese based insurance provider).
Policies are issued ONLINE and the process generally takes less than 5 – 10 mins. Broad details of the plan is as follows:
Starts from 50 USD for regional trips, depending on the length of stay, and the insurance
Meets all the requirements to legally enter the ASEAN region (starting from 20,000 USD Annual Limit covering Covid-19 and other medical expenses).
The Insurance Certificate is accepted by immigration, embassies and airlines as meeting the COVID insurance requirements or entry.
Applicants must be aged between 4 weeks to maximum 75 years old.
Maximum period of insurance is 180 days.
Coverage is provided during your policy period for regional or multiple trips within countries included in the zone of coverage (Brunei, Cambodia, Indonesia, Laos, Malaysia, Myanmar, Philippines, Thailand and Vietnam.).
Includes inpatient medical expenses if you're tested positive for COVID-19 (regardless of whether or not you show symptoms).
Motorcycle accidents as a rider or passenger are covered provided you hold a license and are following the laws in that country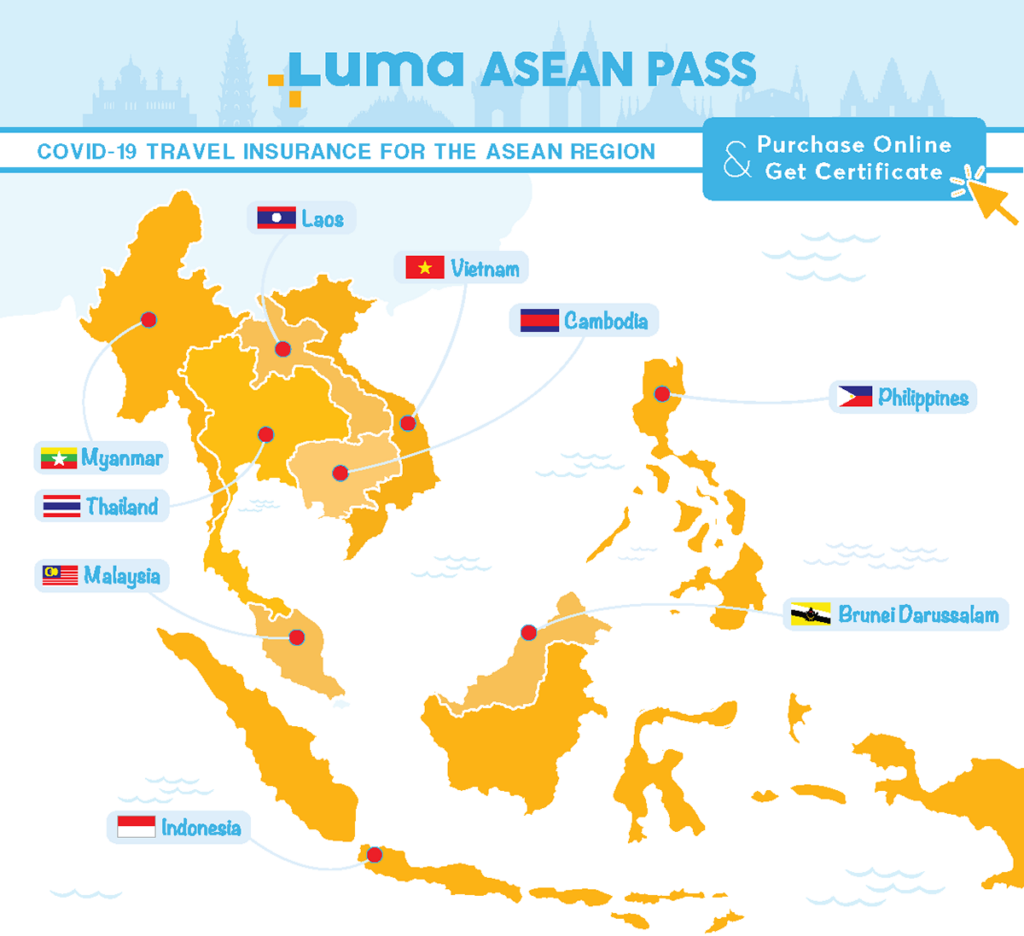 Congratulations to LUMA INTERNATIONAL who now go on record as the first insurance company to offer a regional travel insurance solution for the ASEAN network The Luma ASEAN Pass meets the health insurance requirements for most short term visitor visa types of 180 days or less, including the standard Travel Visa (TR) and the Special Tourist Visa (STV).
*Please note this policy is only valid for leisure travel or business travel (limited to administrative and non-manual work only) and NOT for medical tourism.
Thai Expat Club / Health offers a wide range of immigration compliant insurance products for families and retirees visiting Thailand and other countries in the ASEAN network. These products come from a wide range of recognised companies including AETNA, AIA, AXA, April, Cigna, LMG, LUMA International, Pacific Cross and Regency for Expats and Tune Protect.
Regardless of your age or health status, we have an insurance solution for you.
Please contact Thai Expat Club / Health if you have any questions or require any further information regarding retirement or travel insurance for South-East Asia
Telephone or WhatsApp +6689-897-9435
Website: https://thaiexpatclub.com/
Additional Links:
DISCLAIMER: The information contained in this report has been obtained from sources believed to be accurate and reliable. However, Thai Expat Club makes no representation as to the accuracy and completeness of such information. Information and opinions expressed herein are subject to change without notice. In particular, Thai Expat Club does not guarantee the accuracy of information related to immigration processes and requirements in this report nor do we accept any liability for any loss or damage of any kind arising out of the use of such information or opinions in this report. Readers are advised to do their own research before making decisions relating to visa transfers and migration to Thailand. All rights are reserved.
This report may not be reproduced, distributed or published by any person in any manner for any purpose without the permission of Thai Expat Club